The Arbours Association
We are an internationally renowned registered charity with 40 years experience providing psychotherapeutic support for individuals with serious emotional problems.   We provide innovative residential and individual psychotherapy and training through our:
Psychotherapy Service (including a low fee referral scheme)
Training Programmes ranging from a Full Training in Psychoanalytic Psychotherapy (leading to UKCP registration) to occasional workshops, events and CPD with placement opportunities in our communities
Arbours is based in North London. Our central office ( Main Enquiry Line: 0208 340 7646)  is in Hornsey, North London. Training seminars, events and initial psychotherapy consultations are primarily conducted here.  Our therapeutic communities are based in ordinary residential premises in Willesden Green and Muswell Hill.
The Arbours Association is named  from the Hebrew text 'and he shall build Arbours over them' i.e. as a means of shelter and sanctuary for those in the wilderness – literal or metaphorical.
Arbours Annual Conference
Understanding Adolescence: Creativity, Disturbance and the Developmental Process by Hannah Solemani
10.00am – 1.00pm followed by lunch
AAP AGM 2.00pm — 4.00pm (AAP Members)
Saturday 25 November 2017 at LSE, London WC2A 2AZ   
Adolescence is perhaps the most difficult and drastic phase in human development. Although not an illness or trauma, it is full of major physical and psychological changes that may lead to serious and possible fatal pathological consequences.
In this paper, I will look at the developmental tasks that face the adolescent and consider how these are negotiated. I will also illustrate this with some clinical work, of an analysis with a very worrying adolescent. It will, I hope, show how difficulties are tackled psychoanalytically and the enormous anxiety and terror adolescents project into those around them.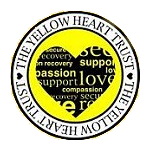 We have recently formed a strategic partnership with a charity called 'Yellow Heart Trust'. This will help us extend our services to more people. Philip Robinson, Director, Yellow Heart Trust, says:

"The Yellow Heart Trust is delighted to have become a strategic partner with the Arbours Association, to help with the inspiring work at the heart of Arbours\\' mission.  I sincerely hope that deserving applicants will benefit from the financial help that the Yellow Heart Trust can provide, particularly for those suffering from issues related to addiction and/or trauma.\\"